Store
Gritsy 713 Anniversary Shirt! (PREORDER)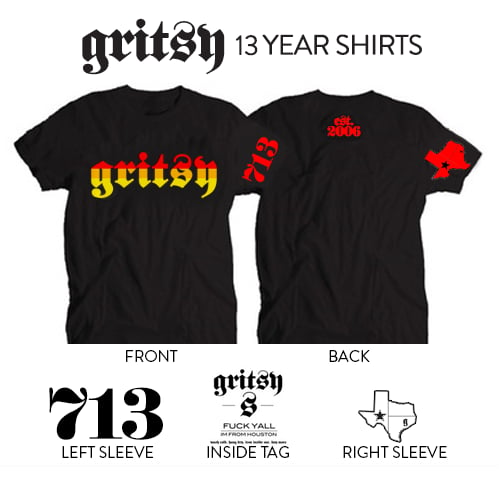 $

30.00
USE CODE "13YR" TO PAY NO SHIPPING & TO PICK YOUR ORDER UP ON SATURDAY, JULY 13TH @ THE EVENT (gritsy.com/713)
This year the Gritsy13 year anniversary falls on July 13th (7/13). 713 is the primary phone code for Houston. Thanks to our favorite Htown manufacturing boutique, @caughtinhtx, we will have a VERY #limited run, in our homebass colorway available Saturday @thedivehtx!
SIZING: Please note all shirts are men's sized tshirts!
Black shirt with a tricolor Gritsy logo on front, 12 in red on the left sleeve, Texas in red on the right sleeve, est. 2006 in red on the back, and a special message inside!
USE CODE "13YR" TO PAY NO SHIPPING & TO PICK YOUR ORDER UP ON SATURDAY, JULY 13TH @ THE EVENT (gritsy.com/713)